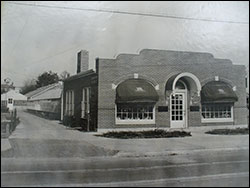 Family Owned and Operated
since 1896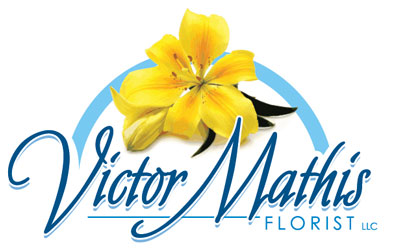 About Us
Victor Mathis - Family Owned and Operated since 1896
Victor Mathis Florist has been a family tradition for four generations. The business was started by Victor Mathis in 1896 after immigrating here from France. The Mathis Family carries on the service and attention to our customers that Victor Mathis started so many years ago. The values of honesty and giving the customer the most for their money is our goal, as it was in 1896.
store hours
8:00 a.m. to 5:00 p.m. Monday - Friday
8:00 a.m. to 3:00 p.m. Saturday.
We are closed on Sundays.

To help assure on-time delivery during the busy holiday season, place your order at least 7 days prior to the following major holidays:
Thanksgiving Day, Christmas Day, New Year's Day, Valentine's Day, Easter, Administrative Professionals Week, Mother's Day, Memorial Day, Father's Day, Independence Day and Labor Day.
Our shop will always be closed on the following holidays:
Thanksgiving Day, Christmas Day, New Year's Day, Easter, Mother's Day, Memorial Day, Father's Day, Independence Day and Labor Day.


areas served
Victor Mathis Florist serves the following areas:
All of Jefferson Co. & Metro Louisville. New Albany, Clarksville, Jeffersonville, Georgetown, Sellerburg and Charelestown in Southern Ind. LaGrange, Brooks, Crestwood, Goshen, PeeWee Valley, Buckner and Prospect in Ky. We also deliver to Funeral Homes in Mt. Washington and Shepherdsville Ky.
We also deliver flowers to the following:
A D Porter & Sons Funeral Home
Advanced Funeral Planning
Alsac-St Jude Children's
Altenheim
Anderson Funeral Svc Ltd
Arch L Heady & Son
Arch L Heady & Son Funeral
Arch L Heady & Son Funeral Hme
Atria Communities Inc
Atria Springdale
Atria St Mathews
Atria Stony Brook
Audubon Hospital
Awkard-Rodgers Funeral Home
Baptist Health Care System
Baptist Home East
Baptist Hospital East
Baptist Hospital East Bhvrl
Baptist Hospital West
Baptist Towers Inc
Barrett-Ratterman Funeral Home
Barton House
Bashford East Health Care
Belmont Village Senior Living
Beverly Healthcare
Bosse Funeral Home Inc
Briarwood Health & Rehab Ctr
Brownsboro Hills Nursing Home
Brownsboro Hills Plaza
Brownsboro Park Retirement
Camelot Healthcare Speacialty
Caritas Diabetes Ctr
Caritas Medical Ctr
Caritas Occupational Health
Caritas Peace Ctr
Center-Orthotic & Prosthetic
Central State Hospital
Chapel House
Charles P Moorman Home-Women
Christian Church Homes
Christian Church Homes Of Ky
Christopher East Health Care
Cornell Trace
Crossmann Communities
Dupont Surgery Ctr
Eastern Star Homes In Kentucky
Eden Brook Of Louisville
Elder Care
Elder Care Planning Of Ky
Embry-Bosse Funeral Home Inc
Episcopal Church Home
Evergreen Funeral Home & Cmtry
Farmdale Adult Citizens Tower
Fern Creek Funeral Home
Forum At Brookside
Four Courts Senior Ctr
Frazier Rehab Ctr
Frazier Rehab Ctr East
Frazier Rehab Institute
Frazier Rehab Institute/Sports
G C Williams Funeral Home
Gateway Rehab Hospital
Georgetown Manor Nursing
Hardy Funeral Home
Hathaway & Clark Funeral Home
Heady Willhite Ballard
Healthsouth
Herman Meyer & Son Inc
Highlands Funeral Home
Hillebrand House
Home Of The Innocents
Hospital Internal Medicine
Inphynet Hospital Svc
Integrated Retirement Options
J O Blanton House
James S Taylor Memorial Home
Jefferson Alcohol & Drug Abuse
Jefferson Manor
Jefferson Place
Jewish Hospital
Jewish Hospital Healthcare Svc
Jewish Hospital Regional Svc
Jewish Hospital-St. Elizabeth
John-Kenyon Eye Ctr
Joseph E Ratterman & Son Inc
Kentucky Organ Donor
Kindred Healthcare Inc
Kindred Hospital Loiusville
King's Daughters & Sons Home
Klondike Manor Health Care Ctr
Ky Assn Of Homes Svc For Aging
Little Sisters Of The Poor
Lourdes Hall
Luken & Nugent Health Care
Marian Home
Mason Funeral Home
Meadow East Nursing Home
Meadows East
Meadows Group
Meadows South
Meadowview Health & Rehab Ctr
Medastat Usa LLC
Mount Holly Nursing Ctr
Mt Holly Nursing Home
Mt Lebanon Of Cedars Lebanon
Nazareth Home
Neurath & Underwood Funeral Hm
Newcomer Funeral Home -
Northfield Centre For Health
Norton Audubon Hospital
Norton Healthcare
Norton Healthcare Women's Svc
Norton Immediate Care Ctr
Norton Kosair Children's Hosp
Norton Suburban Hospital
Norton's Suburban Hospital
Nunnelley Funeral Home Inc
O D White Funeral Home
Owen Funeral Home
Oxmoor Lodge Retirement
Parkway Medical Ctr
Parr's Rest Inc
Pearson Funeral Home
Pearson Ratterman Brothers
Perryman's Mortuary
Pine Tree Villa Heath Care Ctr
Ponder Creek Estates
Preston Village
Puritan Apartments
Ratterman & Sons FuneralHome
Ratterman Brothers Funerals
Ratterman Family Funeral Home
Ratterman Funeral Home
Rest Haven Funeral Home
Resthaven Memorial Park
Retirement Care Svc Inc
Russman & Son's Funeral Home
Sacred Heart Village
Schoppenhorst-Neurath
Seniorcare
Shalom Tower
Share Care Of Louisville
St Matthews Manor Nursing Home
T Valentine Funeral Home Inc
Ten Broeck Behavioral
Ten Broeck Healthcare
Thornton's Family Grocery
Ties
Treyton Oak Towers
Trilogy Health Svc
Twinbrook Hotel Apartments
Twinbrook Nursing Home
University Of Louisville Hosp
Us Veterans Medical Ctr
Us Veterans Outreach Ctr
V A Healthcare Ctr
W P Porter Mortuary
W W Spradling Rest Home
Westminster Terrace
specialty services
Victor Mathis Florist is best known for providing high quality flowers at a value to our customers. We are also known for the quality of our sympathy designs.


contact information
If you have any questions or need more information, please contact us by e-mail at mathisflorist@hotmail.com or call us directly at 800-966-9602. We're always here to serve you and make your flower-sending experience a pleasure.

Victor Mathis Florist
2531 Bank St.
Louisville, KY 40212

Florist Website Design by Media99